Buy Direct and Save on your Next Vehicle Purchase
Save money and time and let us deliver your new vehicle DIRECT from Japan to your door.
Whilst our hand-picked vehicles are in transit from Japan, we are proud to offer you their lowest possible price before they arrive in New Zealand.
All our BUY DIRECT vehicles still come with Dave Allen Motors' usual high standard of showroom quality and all the guarantees of buying from an AA Preferred Dealer, the only loss is the extra cost.
Be quick, as these low BUY DIRECT prices are only available whilst cars are in transit from Japan, without the added costs of advertising, storage, insurance, etc, and will increase to the recommended retail price once they arrive in New Zealand.
With over 250 vehicles in stock at any one time, we have a wide range of vehicles to suit your needs and of course, Trade-Ins are always welcome, and you can even use your old car as a deposit for your new one.
To take advantage of this great offer just look for the "BUY DIRECT AND SAVE" vehicle text which will be on qualifying cars. To secure the vehicle we will require a $500 deposit (fully refundable) and the balance due when the vehicle is ready for delivery. Contact us for any more information that you may require, and one of our team will be in touch with more details including a competitive finance package for your consideration.
Our online application form has literally only 12 easy questions. We then use a system called Credit Sense which is 100% safe and secure. We send you a link via email or text, and once you follow the two easy steps, Credit Sense will send us your bank statements and the information we need to be able to pre-approve your finance application. It is quick, super easy, and best of all it is totally safe.
Once your car finance is approved and you've chosen your new vehicle, your contract will be available for signing and can be signed electronically from anywhere. We use a company called Secure Signing which does exactly that, offers secure signing, online, no need to find a pen.
Very competitive interest rates and easy application - We'll get you on the road in your chosen car, fast!
Ask us for a no-obligation quote you may be surprised, in most cases our car loans are more competitive than the banks!
Fast finance approvals, with decisions made by real people
Flexible repayments – Weekly, Fortnightly, or Monthly
We can deliver nationwide with satisfaction and quality assurance guaranteed
Our exclusive Four Year Unlimited Kilometre Warranty is the best value around and the ultimate peace of mind for any buyer
AA Preferred Dealer - The Safest Place To Buy A Used Car
Buying from an AA Preferred Dealer means the AA has been involved every step of the way. From getting the car AA Odometer Verified before the car departs for our shores, to getting AA Entry Compliance (Safety Certified) at our borders to having an AA Appraisal at our dealership. Our series of checks on used cars gives drivers peace of mind that the used car they're interested in buying isn't hiding any secrets.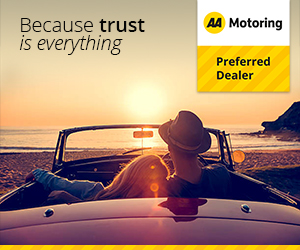 Check out our Testimonials, and Google 5 Star reviews. We have sold thousands of cars to happy customers all over NZ.
Our outstanding service is just as important to us as your business so why not come and see us today for a unique buying experience, you will not be disappointed!