Waikato's Trusted Car Dealership.
We are proud to have been appointed an AA Preferred Dealership for the Waikato region.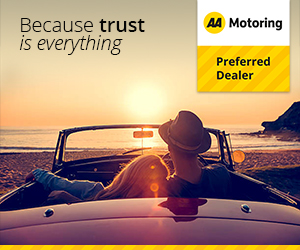 "AA Preferred Dealers are trustworthy and provide you with complete confidence in your used car purchase"
Buying from an AA Preferred Dealer means the AA has been involved every step of the way. From getting the car AA Odometer Verified before the car departs for our shores, to getting AA Entry Compliance (Safety Certified) at our borders to having an AA Appraisal at our dealership. Our series of checks on used cars give drivers peace of mind that the used car they're interested in buying isn't hiding any secrets.
AA Odometer Verified
We check all available service records and make sure the condition of the vehicle is consistent with the reading. An AA Odometer Verified window sticker provides assurance of an accurate odometer reading.
AA Entry Compliance / Safety Certified
When a vehicle is imported into NZ, in order for it to be used on the road, it must pass an Entry Compliance Inspection. This results in a warrant of fitness (WOF) being issued and the ability for the vehicle to be registered. This inspection is more comprehensive than a general WOF and includes an in-depth look into the car's manufacturing standards, structural components, and braking systems. Our vehicle inspections are carried out to meet the high-quality standards of NZAA and the regulatory requirements of NZTA.
AA Appraised Used Cars
An AA Appraised used car has received a 43-point mechanical check by the AA, which focuses on mechanical and safety aspects of the car and gives an overall evaluation of the vehicle. The AA Appraised sticker is presented on the inside of the vehicle windscreen, providing peace of mind for customers that they can have the confidence of driving a used car that has had an AA Appraisal.
"Buying your used car from a Preferred AA Dealer means the vehicle has been rigorously checked by our inspectors"
When there are so many motor vehicle dealerships to choose from, why buy from Dave Allen Motors?
We know that you're looking for the right car at a low price, but you also want a deal with a reputable company that offers great service and real value for money. Rest assured you are dealing with one of the largest and most trusted AA Preferred Dealerships in the Waikato region with over 25 years of trading and 36,000+ sales nationwide.
In short, you're looking for the "Absolute Best Price"! At Dave Allen Motors we believe the Absolute Best Price should consist of Credibility, Service, and Value for Money – all these add up to ensure you are totally satisfied with your purchase. This is the driving force of our business and we go out of our way to be the Absolute Best Place to buy your next vehicle.
Our full-time buying staff in Japan hand-pick every vehicle that we purchase, this allows us to pass on the very best prices all year round. All our vehicles are accident-free grade and undergo a pre-departure inspection before shipping to NZ. Big, small, five or eight seats, we have them all, with over 300 vehicles to choose from we have a vehicle that fits everyone's budget.
It's one thing for us to say this, but we figure you'd like to see some proof. There are currently over 1000+ up-to-date testimonials on the Dave Allen Website from our customers, more than any other car dealer in New Zealand! Or check out our 5 star Google reviews. We are very proud of the results.
Proudly 100% NZ Owned & Operated
---
MTA Assured Dealership

MTA Customer Promise
Being an MTA Assured Dealership you can be confident that we abide by the highest standards of the MTA — N.Z.'s most trusted name in motoring.